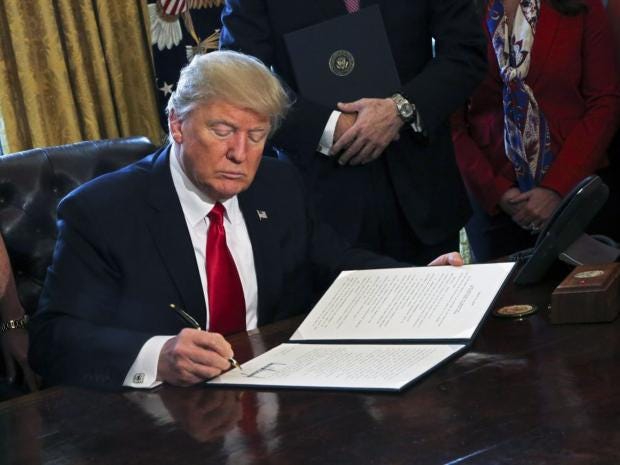 Ninety-seven companies, from Apple to Zynga, filed an impassioned legal brief condemning President Donald Trump's executive order on immigration, stepping up the industry's growing opposition to the policy.
The amicus brief was filed late Sunday in the ninth circuit court of appeals and emphasises the importance of immigrants in the economy and society.
The companies originally planned to file the brief later this coming week, but accelerated efforts over the weekend after other legal challenges to the order, according to people familiar with the matter.
The participating technology companies include
Airbnb
,
Facebook
,
Google
,
Intel
,
Netflix
,
Snap
and
Uber Technologies
. Companies beyond technology signed on as well, including Levi Strauss & Co and yoghurt maker Chobani.
"Immigrants make many of the Nation's greatest discoveries, and create some of the country's most innovative and iconic companies," the brief states. "America has long recognized the importance of protecting ourselves against those who would do us harm. But it has done so while maintaining our fundamental commitment to welcoming immigrants—through increased background checks and other controls on people seeking to enter our country."
Late Friday, a US district judge temporarily lifted the Trump administration's ban, freeing refugees and visa holders from seven Muslim-majority countries to enter the US. An appeals court declined to immediately reinstate the immigration restrictions over the weekend.
The technology industry has been among the most vocal in opposition to Trump's immigration policies.